Coverage By: MalaysiaKini
Related News: https://www.malaysiakini.com/news/637696
The Centre to Combat Corruption and Cronyism (C4) said they have found a recurring trend of repetitive research and consultation processes in many of the reform areas they were tracking.
They said this during the launch of their MyGov Reform Tracker report, which monitored the progress of 13 reform areas, most of which are part of the National Anti-Corruption Plan (NACP) launched in early 2019 by the Pakatan Harapan administration.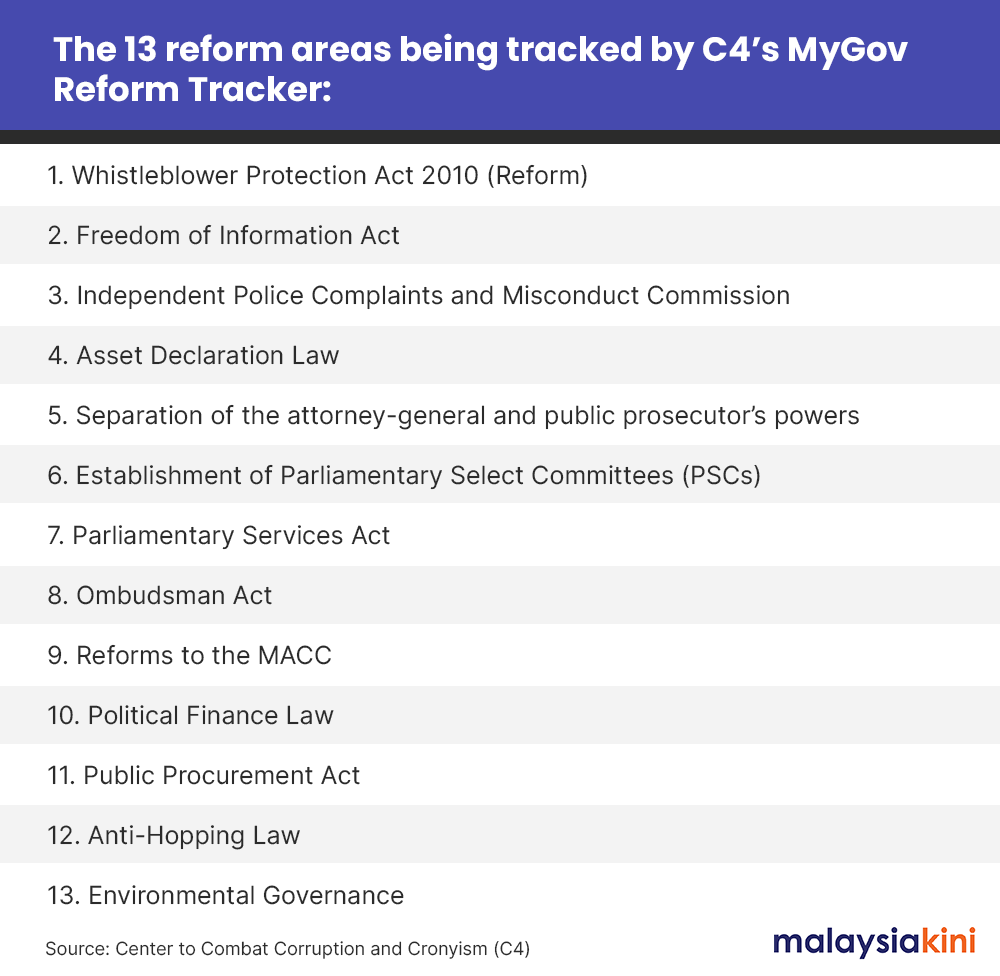 Many of these reform areas have already concluded their research under previous governments, but new administrations keep duplicating the process, they said.
"The Perikatan Nasional (PN) government duplicated this process and when the BN/PN government came into power, they once again duplicated the process.
ADS
"This is a huge waste of resources when much of the time and resource could be spent to implement the promises for reform.
"There seems to be a never-ending story for the research and consultation process and it is an obvious strategy to buy time and delay the agenda," read the report, which was launched at an event at Menara PKNS, Petaling Jaya today.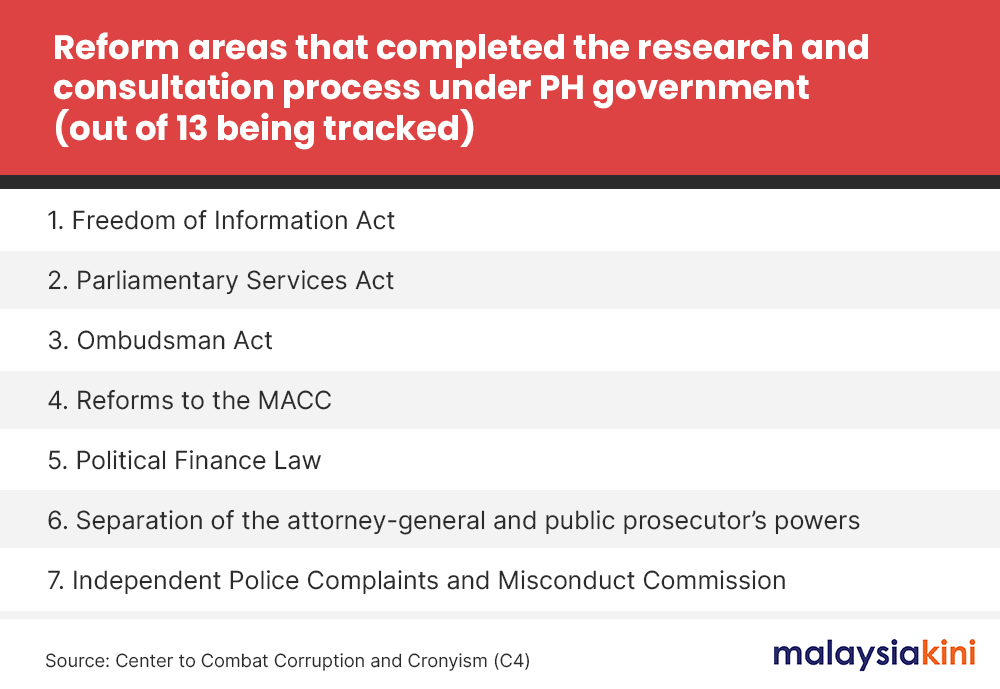 The author of the report, K Sudhagaran Stanley, pointed out that seven out of the 13 reform areas they were tracking had completed the research and consultation process during Harapan's term as the government.
The PN government repeated the same process for six of those seven that had already undergone research.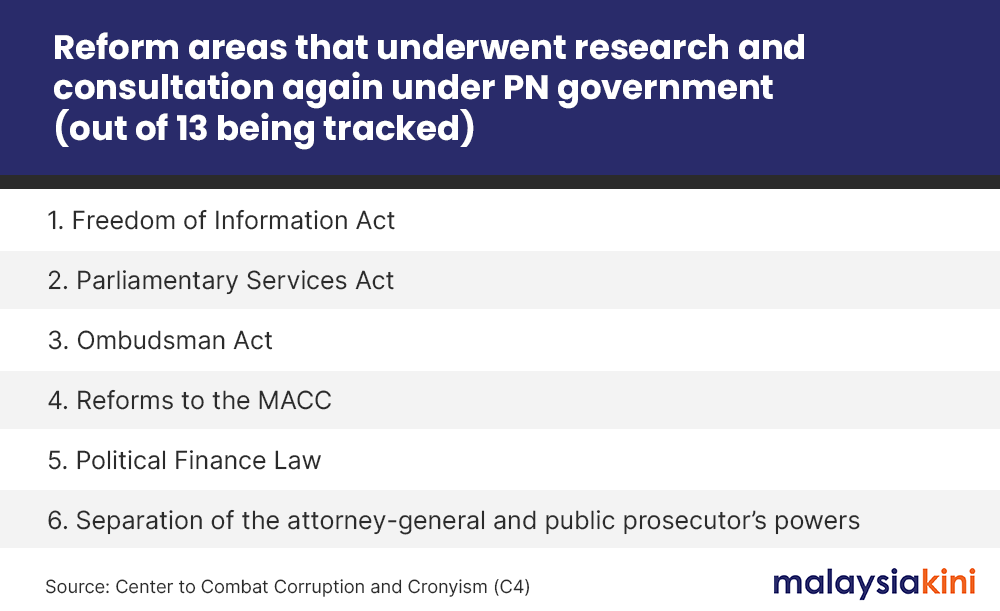 ADS
The current BN/PN government, led by Prime Minister Ismail Sabri Yaakob, later duplicated the process again for six reform areas.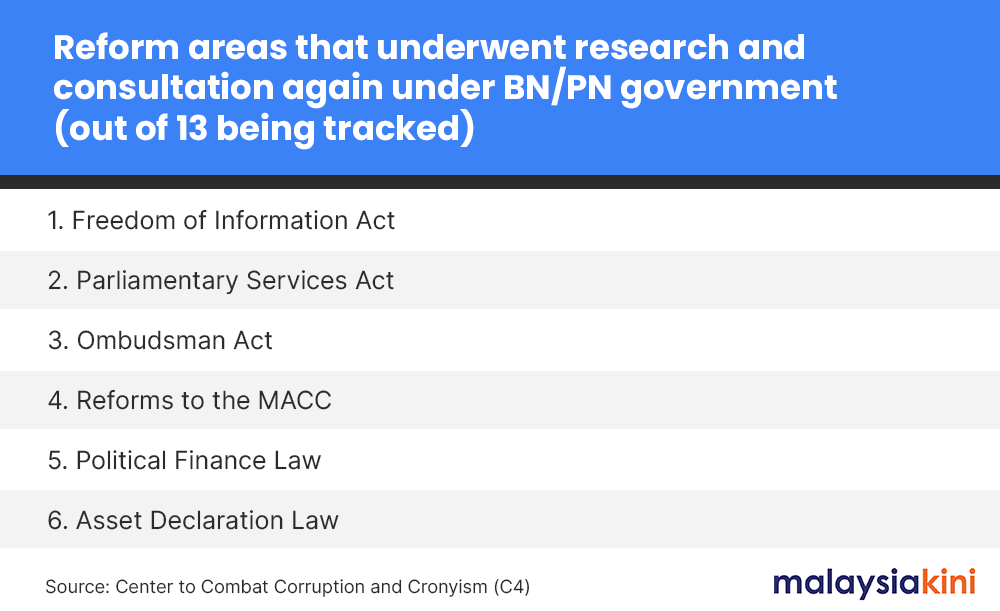 C4 also noted that while the Harapan government was the most willing to initiate and propose institutional reforms, they ultimately failed to implement any of the reform areas being tracked.
Meanwhile, the PN administration showed a distinct lack of interest or desire to carry out reforms to improve Malaysia's governance.
Instead, C4 said Muhyiddin Yassin as prime minister at the time was "clearly more interested in holding onto power at all costs at the expense of any accountability".
"Ironically, Ismail Sabri's joint BN and PN government remained true to its commitment to the memorandum of understanding (MOU), allowing bipartisan efforts to carry out reforms.
"This proves that reforms to our democratic institutions can be achieved if there is the political will to do so," they said.
However, Stanley said that the Ismail Sabri government is not as reformist as it seems, as it is still holding back on certain reforms that would take power away from the executive.
"The government is simply not ready to let go of these powers," he said, noting that the two previous governments were similar in this aspect as well.