Topic: CPI 2020 drop
Coverage by: MalaysiaKini
Related news: https://www.malaysiakini.com/news/560835
The Center to Combat Corruption & Cronyism (C4 Center) has called on Prime Minister Muhyiddin Yassin to rework his administration towards improving the country's anti-corruption performance.
This comes after Malaysia dropped two points and six rungs compared to its 2019 performance in the global Corruption Perception Index (CPI).
"The release of the CPI today revealed that Malaysia's score fell two points from 2019, leading to a drop in six ranks. According to Transparency International, who released the report, the drop in score can be attributed to the sudden change in government following the Sheraton Move early in 2020.
"Influencing factors include stalled institutional reforms, limited access to information on matters of public interest, the continued abuse of power and corruption by enforcement agencies, and a lack of political will to fight institutional corruption which Is embedded in the system.
"This does not augur well for our future, given that the United Nations report on Trade and Development (UNCTAD) listed that Malaysia's Foreign Direct Investment had plunged by 68 percent.
"Other factors included the appointment of politicians to head GLCs, the lack of progress on the Whistleblower Protection Act and Government Procurement Bill, as well as continued adverse findings in the Auditor General's annual report," the organisation said in a statement.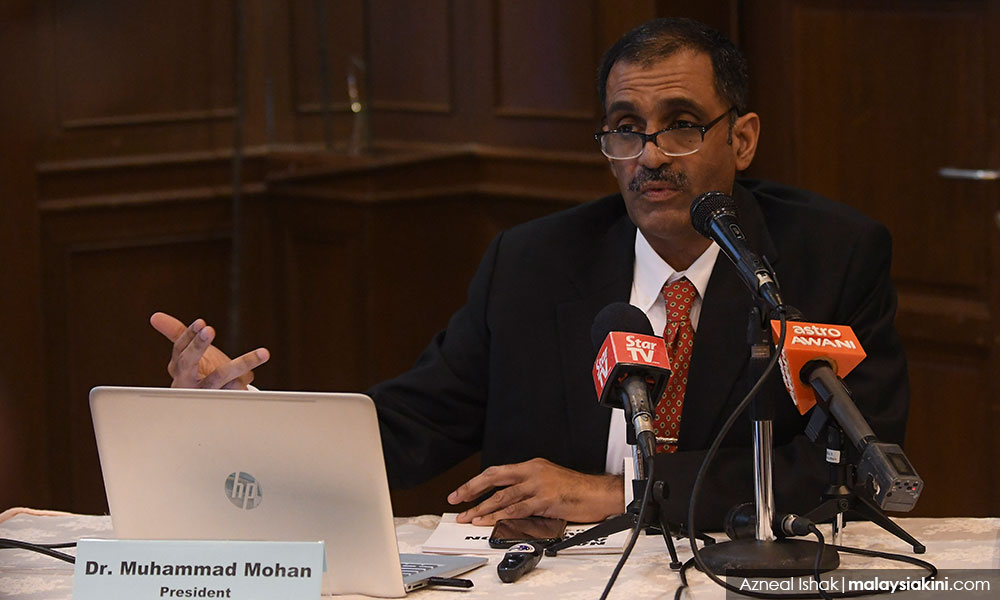 TI-Malaysia (TI-M) president Muhammad Mohan
Earlier today, TI-Malaysia (TI-M) president Muhammad Mohan said Malaysia last year scored 51 out of 100 points and ranked 57 among 180 countries; in comparison to 53 points scored in 2019 for a ranking of 51.
He noted that Malaysia's performance last year was also in contrast to two years of improvements recorded since 2018, following an institutional reform agenda under the previous Pakatan Harapan administration.
C4 Center also expressed their scepticism over the National Anti-Corruption Plan (NACP) in the hands of the Perikatan Nasional government. It said there were scarce updates on the 115 NACP initiatives.
"The Perikatan Nasional government has decisively rolled back many initiatives that were started by the previous Pakatan Harapan government, not just in the NACP, but even to the extent of suspending elections and the function of Parliament, subverting the rule of law, a key pillar in upholding good governance.
"A further example as pointed out by TI-M was high profile politicians involving corruption charges being taken to court, but several acquittals, Discharges Not Amounting to Acquittal (DNAA), and a lack of information on such cases have had an adverse effect instead, and leading efforts on political governance and institutional reform leave much to be desired.
"That these can mostly be traced to the new administration is a grave cause for concern, and C4 Center urges the public to call for the government to wake up and shake up and move towards improved transparency, especially in narrowing the scope of the Official Secrets Act to only matters of national security, to provide updates and progress on the NACP, and to amend the Whistleblower Protection Act," said the statement.